Nas' 1994 debut album Illmatic will forever be known as classic material. This album, Untitled continues down that same path to greatness and maturity.
When the streets first started buzzing about this project, originally titled "N****r," we thought that Nas must have a point he'd like to make clear. Anything built entirely on this premise would have to be done correctly because it's such a hot topic. We always believed that if anybody was going to create a hip hop album addressing relevant social issues with substance and pull it off, it would be him.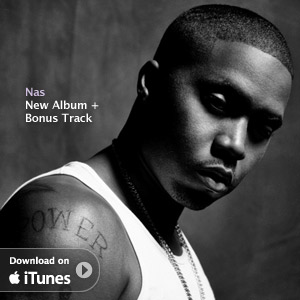 The N****r movement that the Queensbridge M.C. fought so hard to make a reality shows a deep connection to an unspoken but not forgotten past. The cover artwork depicts Nas with his back lashed in the form of the letter "N" reminiscent of the United States' dark past and the enslavement of African-Americans.
The chilling image of Nas' bare back beaten raw with welts similar to the ones slaves endured from lashings sets the tone for the Untitled. Right away you wonder what he has to say on the matter. Why this ... why now? Is Nas doing this for the sake of publicity? Many have dismissed this project as being a gimmick and Nas' way of getting attention for his album by stirring up controversy.
We see Untitled as the rapper's attempt to hold up a mirror to prejudice, injustice and negative stereotypes in a way that has never been done before. He definitely stays on topic as he takes listeners on an introspective journey to view racism in America through his eyes.
Binside TV Fave 5
1. You Can't Stop Us Now -funky throwback, Lost Tapes vibe
2. Hero - club, car, streets, ipod rocker
3. America - history lesson, listen & learn
4. N.I.G.G.E.R. (The Slave and The Master) - straight gem of enlightenment
5. Black President - hopeful and timeless
Off to a good start, "Queens Get The Money" lyrically is the sh*t! Nas does his thing on the right while a cool piano riff does another on the left but the two don't quite meet at the center. It's a chill beat produced by Jay Electronica, but he may have done better to just kick this one a cappella. Anyway, it seems he takes a subliminal digg at 50 Cent on the one verse song saying, "Take 27 Mc's put them in line and they out of alignment/ My assignment says he said retirement/ hiding behind the 8 Mile & The Chronic/ Get Rich but dies Rhyming/ This is hot science./ Now add 23 more for Queens to B-More/ I'm over their heads/ like a bulimic on a seesaw./ Now that's 50 porch monkeys ate up at the same time./ Nasty Nasdaq, y'all gone bow homes in style Jones." *Pause* This is an "Ether" moment with a touch of Rakim.
What we really like about this album is that Nas tackles the topic of struggle in a way that you'll enjoy even though he's dropping knowledge on you. Nas teams up with Producer Salaam Remi once again on the jazzy and incredibly smooth and soulful groove, "You Can't Stop Us Now." Nas sounds like an old soul that's wise well beyond his years. We also like that he teamed up with The Last Poets which gives a sense of paying homage to elders. We like this one a lot and the static of an old 45" adds to the songs nostalgia.
On "Hero," feat. Keri Hilson, Nas talks about the intense scrutiny he faced in creating this project in the third verse as he rhymes, "My lawyers only see the Billboard charts as winning/Forgetting - Nas the only true rebel since the beginning/ Still in musical prison, in jail for the flow/ try telling Bob Dylan, Bruce, or Billy Joel/ they can't sing what's in their soul/ So Untitled it is." We're lovin' this song for its strength, depth and raw emotion. Nas knows how to add a touch of Rhythm and Blues and not go Pop. You feel energized as the heavy drum beat completes the picture. Good lookin' out Polow Da Don for producing this one!
The tracks never outshine the master of ceremony. In fact, Nas makes the songs and strives to balance the serious topics with creativity. On the real, the Mark Ronson produced "Fried Chicken" is incredibly clever as Nas and Busta Rhymes deal with stereotypes while expressing unashamed adoration for the fried food, a metaphor for an enchanting woman. Leave it to Nas and Busta to make sense of the unlikely parallel. It's so nicely done, they have us ready to grab a bucket ourselves!
How much of the past affects the present and future? With "N.I. G.G.E.R. (The Slave and The Master)", he takes on the tone of a big bro droppin' jewels. This song is full of them. Even the chorus is thought provoking. "They say we N.I.G.G.E.R./ we are much more/still we choose to ignore the obvious man this history don't acknowledge us/ we were scholars long before colleges./ They say we N.I.G.G.E.R./ we are much more/still we choose to ignore the obvious we are the slave and the master/ What you lookin' for? you the question and the answer." Gems of wisdom are the only bling on the entire album which is refreshing. The mellow drums and majestic strings are befitting of the legendary M.C. We hear courage and intelligence on every verse. This song is hella ill!
Get ready for a history lesson as "Y'all My N***as," "We're Not Alone" and "America" follow along the same lines. Nas presents a valid argument to his critics about the hypocrisy of burying the N-word on "Project Roach" feat. The Last Poets. All in all, good tunes. He stood his ground with this album and we think comes at the right time given the current political climate. "Black President," a song dedicated to Senator Barack Obama, leaves listeners with a message of hope and change.
This is the definition of edutainment, a strong combo of education and entertainment. This isn't about ringtone sales. If his intention was to open dialogue, we think that the brave-hearted M.C. hit his mark.
While "Make The World Go Round" feat. Chris Brown & The Game is a tight song and a lighter track you'll enjoy, it doesn't quite fall in line with the overall theme. We'll probably be hearing a lot of this song this summer. This track comes from the Cool & Dre lab with some help from The Game. Nas and The Game sound like a dynamic duo and share such good creative energy until they've got us wishfully thinking about the two possibly collaborating on an album of their own in the future.
While the production on the album isn't incredibly strong, we think that was the point. It's as if Nas is just chillin' behind a cool pair of aviator shades and kickin' it with you in a dark, smoke-filled room while tracks are playing in the background and his words just happen to be poetic.
So, while an album titled "N****r" did not hit the shelves, Untitled did with message in tact. This is that raw hip hop for your mind, body and spirit. We think that true hip-hop heads are gonna love and appreciate this solid effort. This album puts those lost and written off back on track. Those who've been ridin' with Nas from the beginning are gonna love his evolution. The masses have been fed junk food for so long, it's nice to get some nourishment for a change. So cop yourself some food for thought and buy Nas' new album Untitled, in stores now!
MYSPACE.COM/NAS / NAS OFFICIAL WEBSITE
Nas "Untitled"
Genre: Hip-Hop (not dead)
Label: Def Jam
01. Queens Get The Money (Produced by Jay Electronica)
02. You Can't Stop Us Now feat. Eban Thomas of The Stylistics & The Last Poets (Produced by Salaam Remi)
03. Breathe (Produced by J. Myers & Dustin Moore)
04. Make The World Go Round feat. Chris Brown & The Game (Co-produced by Cool & Dre & The Game)
05. Hero feat. Keri Hilson (Produced by Polow Da Don)
06. America (Produced by Stargate)
07. Sly Fox (Produced by stic.man of Dead Prez)
08. Testify (Produced by Mark Batson)
09. N.I.G.G.E.R. (The Slave and The Master) (Produced by DJ Toomp)
10. Louis Farrakhan (Produced by stic.man of Dead Prez)
11. Fried Chicken feat. Busta Rhymes (Produced by Mark Ronson)
12. Project Roach feat. The Last Poets (Produced by Eric Hudson)
13. Y'all My N***as (Produced by J. Myers)
14. We're Not Alone feat. Mykel (Produced by stic.man of Dead Prez)
15. Black President feat. Johnny Polygon (Produced by DJ Green Lantern)
Nas Tour Date Info
In between performance dates on this summer's Rock the Bells tour (with A Tribe Called Quest, Ghostface and Raekwon) Nas will embark on a 21-date US tour (The Jones Experience) for his new album, Untitled along with Talib Kweli, Jay Electronica and DJ Green Lantern.
The tour begins July 22nd at the Metropolis in Montreal and wraps up on September 5th at First Avenue in Minneapolis. It will also touch down in Atlanta, New Orleans, Las Vegas, Houston, Detroit and Chicago.
Nas Tour Dates
Jul 14 2008 7:00P A Life w/ NAS New York, New York
Jul 15 2008 8:00P NAS NY FREE SHOW New York, New York
Jul 19 2008 1:00P Rock The Bells Festival Chicago, Illinois
Jul 20 2008 1:00P Rock The Bells Festival Toronto, Ontario
Jul 22 2008 8:00P Metropolis - NAS Montreal, Quebec
Jul 24 2008 8:00P Higher Ground Metropolis NAS Burlington, Vermont
Jul 25 2008 8:00P Toad's Place Metropolis - NAS New Haven, Connecticut
Jul 26 2008 1:00P Rock The Bells Festival Boston, Massachusetts
Jul 27 2008 1:00P Rock The Bells Festival Prince George's County, Maryland
Jul 27 2008 1:00P Rock The Bells Festival Prince George's County, Maryland
Jul 29 2008 8:00P Amo's South End Charlotte, North Carolina
Jul 30 2008 8:00P Music Farm - NAS Charleston, South Carolina
Jul 31 2008 8:00P Center Stage - NAS Atlanta, Georgia
Aug 1 2008 8:00P House of Blues Metropolis - NAS New Orleans, Louisiana
Aug 2 2008 1:00P Rock The Bells Festival Miami, Florida
Aug 3 2008 1:00P Rock The Bells Festival Long Island, New York
Aug 8 2008 8:00P House of Blues -NAS Las Vegas, Nevada
Aug 9 2008 1:00P Rock The Bells Festival Los Angeles, California
Aug 10 2008 8:00P House of Blues - NAS San Diego, California
Aug 16 2008 1:00P Rock The Bells Festival San Francisco, California
Aug 22 2008 8:00P Harry O's - NAS Park City, Utah
Aug 23 2008 1:00P Rock The Bells Festival Denver, Colorado
Aug 24 2008 8:00P Palladium - NAS Dallas, Texas
Aug 25 2008 8:00P Warehouse Live - NAS Houston, Texas
Aug 26 2008 8:00P Stubbs Amphitheater - NAS Austin, Texas
Aug 28 2008 8:00P House of Blues -NAS Cleveland, Ohio
Aug 29 2008 8:00P Chene Park - NAS Detroit, Michigan
Aug 30 2008 1:00P Rock The Bells Festival Vancouver, British Columbia
Aug 30 2008 8:00P Canopy Club - NAS Champagne, Illinois
Aug 31 2008 8:00P House of Blues Chicago, Illinois
Sep 1 2008 8:00P House of Blues - NAS Chicago, Illinois
Sep 3 2008 8:00P The Pageant - NAS St. Louis, Missouri
Sep 4 2008 8:00P The Rave - NAS Milwaukee, Wisconsin
Sep 5 2008 8:00P First Avenue - NAS Minneapolis, Minnesota