Snoop Dogg can be so silly sometimes. His latest advice to newlyweds Beyonce and Jay-Z is to get to the baby making business.
We don't see what the rush is especially since Beyonce is a megastar with a career.
That is unless the rumors are true that she is already pregnant and had a shotgun wedding before the baby bump.There are already rumors that Jay-Z is a baby daddy with a baby mama in Trinidad who claims his name was deliberately left off his son's birth certificate. If that is true then Jay-Z has already been in baby making mode and is ahead of the game. There have been several photos floating around the net showing what Beyonce and Jay-Z's baby might look like. We decided to share this one. We call her Bey-Z.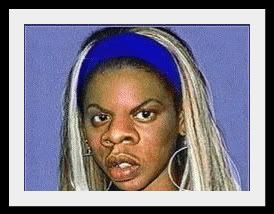 After a decade of marriage and three children later, rapper Snoop Dogg has a few words of advice for new husband and wife Jay-Z and Beyoncé Knowles.

"I told them to go home and make babies," he told reporters at the Dodge Celebrity Event in Rosamond, Calif. "They should, that's the next step as far as marriage, having kids ... add on to the family, so hopefully that's what they'll do."

When asked if he'd be planning on adding to his already full nest, he shook his head, grinning. "No. I'm good."

Snoop's key to lasting marriage? "Communication, and being able to fight and get back up," he says. "To have misunderstanding and [then] get some understanding." source